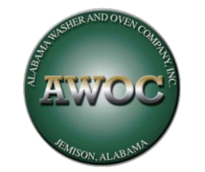 Insulated panel flooring
Stainless steel construction

Steam, electric or infrared heat

Installation by factory-trained technicians
Outdoor installation configuration
Enclosed track, I-beam or power and free conveyor
Designed specifically for your application and facility requirements
Temperatures tp 750'F
Special air seal designs based on coating and oven configuration
Structural steel frame designed to support conveyor and product load.
Aluminized panel skins and four-sided ductwork.
High-temperature supply and exhaust fans with isolated bearings for long life and low maintenance.
Fuel efficient IRI or FM approved gas heating.
Digital electronic controls for simplified setup
Forward curved-blade, balanced fans fro quiet operation.
Over-stuffed fiberglass insulated panels to reduce setting and prevent wasteful heat transfer
U.L. listed control panels
Shipped fully assembled and tested where possible.
Spot welded, tongue and groove panel construction.
Ductwork designed for maximum air and heat uniformity.